Another weekend another movie.. well actually two movies... 'Thumbsucker' and 'Me and you and everyone we know'....
Yes I'm a thumbsucker.. When I was a baby, my mom was so happy that I didn't need a pacifier.. little did she know that my thumbsucking habits would be her worst nightmare... and believe me she tried
everything
to make me stop... nothing worked... I ended up sucking my thumb until the age of
seven
...what or who made me stop? 'Dracula' but that's another post all together...
But now you'd understand why I just had to watch 'Thumbsucker'..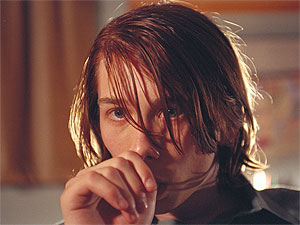 The movie revolves around a seventeen(not seven) year old called Justin.. Justin is not the cool kid in school.. he's a loner... he'd spend his breaks locked in the bathroom 'soothing himself' by sucking his thumb...it was his comfort...
His family? well the only one who's really concerned about this habit is his dad Mike... one more thing... You'll notice that Justin calls his dad Mike and his mom Audrey(played by Tilda Swinton,the chic who played Gabriel in Constantine and The Witch in Chronicles of Narnia). ..Justin will tell you why when you see the film..
Mike is the guy who almost made it to the big times (in football) if it weren't for the knee injury.. He never knew how to deal with his fate and doesn't know how to deal with justin now... there's a clear ambiguity in his relationship with his son.. He loves his son but for some reason he doesn't show it till around the end of film... Audrey, on the other hand.. was the chic-to-have in highschool... She now works as a nurse.. She's also currently fixated on TV actor Matt Schramm played by Benjamin Bratt.. Though she plays the role of the understanding mom.. she too has her own story.. but I don't want to ruin it.. my hint would be that it has to do with her crush on the actor...
Now you know a bit about Justin and his family...well he has a younger brother as well..
One day, Justin pays a visit to his hippy-happy-go-lucky dentist played by none other than Keanu Reeves.. the dentist is aware of Justin's problem(since he was a thumbsucker himself) so he decides to cure him in his own way(remember he's a flower-child)... On the other hand..The school also diagnose him with ADD(Attention Deficit Disorder) and request that he goes on Ritalin(as another student commented.. SPEED). So, lonely Justin is now transformed into a chaotic individual and a fantastic member of the debate team headed by Mr. Geary (Vince Vaughn)... This transformation was an amazing one
From.. thumbsucker.. to drug addict.. to a normal teenager trying to just be...
Verdict:
Good movie, recommended for the movie buff.. if you're into mainstream hollywood... this is not for you... unless you're willing to have a taste of something different..
the only thing I didn't like were the scenes where he was sucking his thumb.. having been a thumbsucker.. he didn't seem to be doing it right...
Movie number two..
'Me and you and everyone we know'...
a contemporary artist, Christine...a newly seperated shoe salesman and father of two boys, Richard... his two boys.. their neighbor, a young girl with her 'hope chest'.. two teenager girls who want to be older and a lonely art gallery owner.. enough characters literaly describe you me and everyone we know...
This is Miranda July's first film.. she wrote it, directed it and acted as Christine... she did a great job.. because this has to be one of the most original screenplays I've ever seen on film...plus she's a true poet..
The story, in essense, is about how difficult it is for people to get together in these today's stressful world ...but despite all the obstacles, we still manage to do so..
All the characters are linked together in one way or the other..in a very scruffy way...
if you're wondering what this pic is.. hold your thoughts..
The hobby the two boy's have (besides chatting with an eldery woman and seducing her) is drawing pictures with the symbols as above.. I'm sure you've seen some with the pics of marylin monroe or some other 3D pics.... the last pic they show in the film is somewhat similar to what I've scribbled on top... when the younger brother asks the elder what it is, he explain that this is the view of people from the sky.. 'See that's you and that's me.. and that's everyone we know'
This movie is truly an 'arthouse' film...I loved Miranda's role as the artist who also runs an 'eldercab' driving eldery people around..and her search for love... the shoesalesman...
I loved one of her videos (her art) where Richard sells her a pair of pink shoes that she thought she didn't need... the pair of shoes become her main actors in her video and marking the words 'You' on one shoe and 'me' on the other.. she wears the shoes and films a sequence of how she's imagine her and Richard get to know one another... very quirky but in a way romantic.. I loved it..
but this is only her role in the movie ... you still have to see the others do their part.. I'm not telling u about them..
another stand out moment... the quest to save the goldfish..very touching!!
Verdict:
one of the most beautiful, heartfelt movies I've seen.. Winner of the Camera d'or Award for best first film at the Cannes Film Festival. A magical, funny, bittersweet experience. Definitely recommended.
over and out...
Cosmic