If you've seen 'West Side Story' then the title should make some sense.. you have to sing it as in the movie.. if not.. then just move along..
Ok
I've had a gruesomely chaotic weekend... and add in a little dose of 'my maid has chicken pox' makes a perfect recipe for disaster.. the good thing is...I managed to squeeze in one movie.. 'Maria Full of Grace'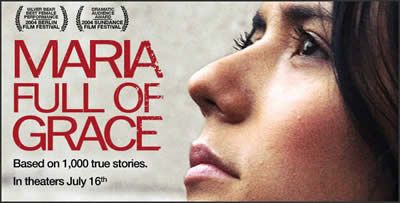 First thing's first..
Quick Credits (as recommended by
Bandicoot
)
Cast:
Catalina Sandino Moreno
.. as María Álvarez
Yenny Paola Vega
.. as Blanca
Guilied Lopez
.. as Lucy Díaz
Written and Directed by..
Joshua Marston
Awards and Nominations
(at a glance)
Nominated for Best Actress.. 2005 Oscars
Won the
Silver Bear Award
for Best Actress.. 2004 Berlin International Film Festival
Won the
Alfred Bauer Award
(Joshua Marston).. 2004 Berlin International Film Festival
Won the
Audience Award
for Drama (Joshua Marston).. 2004 Sundance Film Festival
and many many many
more
.
Maria, a Columbian seventeen year old, is struggling as any other Columbian. With no father or any male presence, she has taken the role of supporting her family.. . Her sister doesn't work and blames it on the fact that she has to take care of her baby.. again no father there..So it's all on Maria's shoulders to make sure the money get through to keep her family alive and well... Not only that.. Maria has just found out that she's pregnant...
and you thought you had problems... WAIT..
Maria works in a flower plantation.. she de-thorns roses.. Maria, though, has a different mentality and you can see that right from the beginning. She is 'stubborn' and strong headed..
So after a quarrel with her employer.. She quits her job and decides to go to Bogota to find a better job.. Her family begs her to go back to the plantation.. she refuses to even think about it.. As she is off to the city, she bumps into Franklin, the guy who was flirting with her a couple of nights ago... He tells her he might know of someone that might help her make money fast...
and this is where the story begins...
the offer... around 5000 dollars(which is millions in Columbian money).. what does she have to do...
she has to become a 'mule'... we've all heard stories about them.. you guessed it.. she has to swallow pellets of cocaine, fly to New York, and give it to the drug lords there...
Before she makes her decision to go ahead, she meets Lucy, who she clearly figures to be a mule... she decribes the process and explains the procedures.. the pellets are HUGE..to practice, Lucy hands her a bowl or
purple
grapes.. she'd have to learn to swallow them whole first.. Moreno was perfect.. I think she did have to practice real hard to perform this on film... Lucy also warns her that if the pellet breaks in her stomach, she's dead... and and and... they'd have to swallow more than 50 or as much as their body can take or fit...
Blanca, Maria's friend from the plantation, finds out and decides to be a mule as well.. Blanca is not that bright, you can tell that she's a follower.. she'd allow life to take it's toll without the fight.. which gives us the perfect threesome...
Maria - sharp but desperate, contemplating on what to do with her life and the life that lies within her womb..including the responsibity of being the provider of the house..
Lucy - the veteran, she's been a mule twice, and who's simply desperate (also goes to New york to try to make amends with her sister)
Blanca - naive and desperate (she says with that money she can buy her family a new home)
The day comes where they have to swallow and travel... all dispersed to different locations.. they meet in the airplane where they try not to be obvious.. Lucy is not feeling well.. and Maria simply has to go.. what do they do...
I'll leave the rest for you to see...
Verdict:
this has to be one truly amazing film... it shows you how desperate people can be.. how ruthless drug lords could be... and at the end of the day how HUMAN we all are..
so how does the story end for these columbians... each differently... and not all stories have happy endings specially when drugs are involved..
the other gripping factor is Maria.. her presence on screen.. simply powerful..her personality.. her reactions.. her strength.. and her will to live a better life.. for her sake and for her child's sake..
and one final note: After seeing how the flower plantations are.. I'll always look at packed flowers differently.. each packed bundle was packed by someone... and each 'someone' has a story and this possibly is one of them.
Check this out...
Makes you think huh?