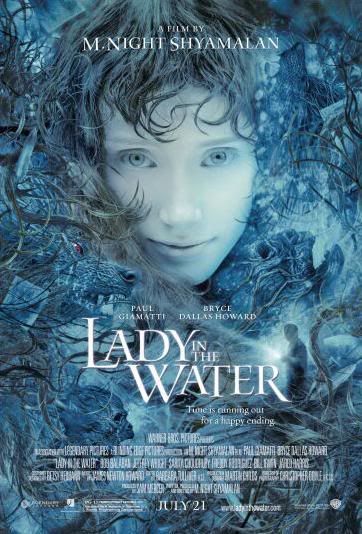 Ok.. so it's time to blog about a movie that you CAN actually go watch in cinemas...
I got the chance to see it last Sunday...
If you're an M. Night Shyamalan fan.. then I needn't write anymore for you to go and see it...
but if you're not.. well... I'm hoping that by the end of my post I would've convinced you to go and see it..
Cast
Paul Giamatti - Cleveland Heap (yes .. yet another film featuring this talented actor)
Bryce Dallas Howard - Story or I should say as the lady in the water
and of course M. Night. Shyamalan himself..
and many
others
that I doubt any would know...example would be the black guy from Syriana is in it...
What seemed interesting about this film was the fact that it revolved around the elements of a good story...If you remember that while watching, you'd appreciate the film..Specially if you are into writing...I was in between two books on the subject...'On writing' by Stephen King and 'Story: Substance, Structure, Style and The Principles of Screenwriting' so the film described some of the elements that both books were referring to... The characters!!
yes..one of the main elements are the characters... the main character and the supporting characters.. where they all fit together to create a good story..
The Lady was called 'Story' and indeed this was her story...
Cleveland Heap, the lonely s-s-s-t-t-t-uttering caretaker of 'The Cove'.. an apartment block that houses all the characters that will be brought together to save Story...
Story is a 'nymph' or a 'narf' (can't remember, I need to see it again to tell you the exact name).. a creature of the water.. (unfortunately it was translated to '7oriyah' in Arabic which is synonymous to mermaid, which she's NOT)..
Story is from the "blue world' or I should say the swimming pool at the Cove.. She's on a mission.. but nothing goes as she had hoped for her enemies are close.. they do not want her to succeed.. they are the beasts of your worst nightmare.. looking like mutant wolves with red-almost-transparent fierce eyes with a disguise from hell.. their back look like spiky hard grass.... so the best place to hide and wait would be the garden surrounding .. you got it... The Cove's swimming pool...
Lucky for all the characters in this full-of-suspense story.. Cleveland finds out that 'Story' herself comes from an ancient story that one of the Chinese tenants recalls...
though you don't see her much in the film.. she is the key that helps Cleveland to save 'Story' go back to her world... She has one chance now...Will Cleveland be able to summon all the characters he needs to save her? Will he get all the right characters?
You'll have to see to find out...
just another tip... Though this movie has been classified as a thriller... the 'THRILL' was mostly from the sudden movements... And watch out for those sprinklers...(u'll know what I'm talking about when you see it on the big screen)
The cast in general were funny.. you just had to laugh...Giamatti was p-p-perfect.. with his stuttering... another challenging role he managed to ace... watch out for Reggie played by Freddy Rodríguez... that guy was hilarious... he body builds ... but only the right side.. so his right arm is of a body builder and his left scrawny... it goes the same for his legs.. funny... as were most of the characters that were put together to feature in a 'thriller'.. add a crossword puzzle, some cereal boxes and some butterflies and ofcourse a couple of giant scary monkeys to the recipe...and you get yourself some entertainment..so you will have laughs here and there as well as a few frights...
Verdict:
Not for everyone, you either like it or not...Good storyline... definitely for the crowd that appreciates a good story... If you just want to watch a scary movie...I'd wait another week for 'An American Haunting'.. that should send shivers up your spine...the trailer says it all..
until then..
just sit back and enjoy the show!!
Cosmic